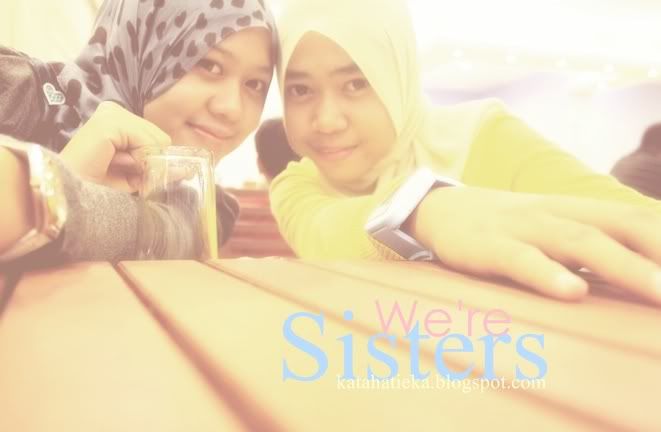 A special entry dedicated to a wonderful sister that I've ever had. I've known you for seventeen years three months and two days. And it's been a pleasant journey indeed. Though at certain moments we were in a cat-dog situation. Funny whenever I recall those moments back...it only creates a smile. And now you're going to leave us to achieve your ambition soon. Half of me feel proud. Nevertheless, I feel sad. Soon as I finish my studies and go back home, you're about to leave. Or maybe had left. Sometimes it makes me think, how fast the time goes by that you're about to become a woman. We. About to become a woman. I miss all the fun that we had. The time we'd spent together. The gossip. Tears. Laughter. Not everyone can have the kind of relationship we have. I'm grateful. You're my sister and my best friend. Someday we're going to be a housewife, a mother. I wonder...can we still enjoy the fun like we used to have during childhood? Philippines. I know it's not that far as from here to London nor America. But still it is far from our sight.

But. I believe in you.

I know you can do it. I know. Cause I've put all my trust on you for seventeen years. And you never disappoint me. Dear pilot to be, listen to your heart. Go on and fulfil your dream. Remember. We'll always be sisters.




Dear little sister,




good luck with your studies.





From me, your good friend, your sister.